Case study – The Carbon Natural app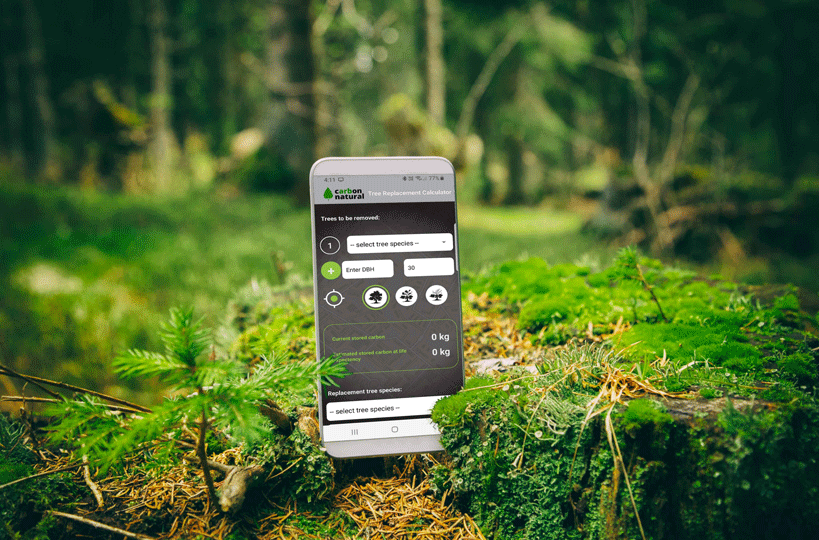 Carbon Natural – How a New Zealand app is driving sustainable development
Many New Zealanders share a passion for clean, green outdoor spaces and want to live in a country that is on the forefront of conserving the natural world. One of the most valuable assets we have in this endeavour is trees as they fix carbon out of the air, hold the soil to prevent run-off into waterways, create a habitat for living creatures, moderate temperature and add beauty.
The problem
However, while we generally love the environment trees provide in wild, farmed and urban settings, New Zealand also continues to have a pressing need for more housing and infrastructure and, it's an unfortunate fact, but accommodating more people has often resulted in a dramatic net loss of trees.
Urban Forest Solutions
It's this serious concern that motivated Andrew Benson and Sean McBride to form Urban Forest Solutions, a startup based on their shared vision of using science and technology to create simple solutions to enable professionals in the field to plan more sustainable urban forest outcomes. Their apps draw on years of knowledge and experience, enabling users to make environmentally sound decisions easily.
The first app – Carbon Natural
Andrew and Sean had noticed that developers, planners and people working in the green space industry needed a simple and fast way to calculate the true number of trees needed to fully replace the environmental input of trees being removed. This was the vision behind the first of their planned series of environmental apps, Carbon Natural. This is an easy to use app that users can download to do all the hard calculations for them, removing the barrier of requiring experts to work this out. They are hopeful it will encourage and enable a more sustainable future for NZ developments.  When planning the app they also kept in mind upcoming carbon neutrality legislation that will ultimately require developers to demonstrate carbon neutrality. The intended users for the app include anyone working in the green space, developers (for their green space expert), urban planners and architects.
Design phase
When designing the look and feel of the app, Sean and Andrew expressed to us, Applicable Limited, that their vision was for a modern look with an urban/green feel. This led to the crisp green and black logo and the dark background with an urban yet green and fresh impression.
Build phase
Urban Forest Solutions came to Applicable with a vision and a rough idea of what they wanted the app to do and achieve. However it was up to John Jones and Clint Cherrington from Applicable to translate this vision into a mobile app with a simple and fluid user experience. They wanted to make sure that there were no barriers for the user; it needed to flow easily through the various steps to ultimately provide the user with a clear report at the end.
The first step to achieve this was for John to wireframe up the key screens that would be at the heart of the process and how elements would interact with each other. This gave the project leader, Clint Cherrington, a great framework to begin developing the application.
In consultation with the client, we chose React Native to build this application in. Over time we have built many apps using a variety of technologies and have ultimately concluded that React Native is the best option for most types of apps these days. React Native is the app technology behind the Facebook and Instagram apps, Uber, Skype and many others. In the case of the Carbon Natural Application, it was the best technology fit for the project. It is time-efficient to build in so therefore it is cost-effective. It can also be deployed easily to both Apple and Android platforms.
The Applicable team also integrated the app with google maps API to enable people to add the location of trees by just tapping a button when in front of each tree they're entering.
The finished application uses algorithms that were generated by running several hundred tree-growth simulations. The algorithms use the tree's trunk diameter measurements to predict size and stored carbon for a large range of species. There is a lot happening behind the scenes of this app. But all the user has to do is put in a couple of pieces of information and a report is generated for them.
Future
With trials of their first app underway at the time of writing, Andrew and Sean are already in progress building their next app in the series, the Root Zone calculator. And the creative ideas don't stop there with further apps around trees and sustainability in the pipeline.
We all know there are a lot of challenges to creating a sustainable future, but it's important we rise to these challenges and find solutions. In the case of trees, we need to recognise what a fantastic ally they are in this struggle and to create a partnership between our use of tech to plan for a tree-lined future and the amazing work that the trees themselves do to enhance our environment.